Welcome to our month-to-month trawl for developmental and stem cell biology (and associated) preprints.
The preprints this month are hosted on bioRxiv – use these hyperlinks under to get to the part you need:
Developmental biology
| Patterning & signalling
Stromal netrin-1 coordinates renal arteriogenesis and mural cell differentiation
Peter M. Luo, Xiaowu Gu, Christopher Chaney, Thomas Carroll, Ondine Cleaver
Oleic acid decouples fecundity and longevity by way of DAF-12 steroid hormone signaling in C. elegans
Alexandra M. Nichitean, Frances V. Compere, Sarah E. Corridor
EOGT Permits Residual Notch Signaling in Mouse Intestinal Cells Missing POFUT1
Mohd Nauman, Shweta Varshney, Jiahn Choi, Leonard H. Augenlicht, Pamela Stanley
Evolutionarily conserved function of serotonin signaling in regulating actomyosin contractility throughout morphogenesis
Sanjay Karki, Mehdi Saadaoui, Valentin Dunsing, Elise Da Silva, Jean-Marc Philippe, Cédric Maurange, Thomas Lecuit
Frizzled2 receives the WntA morphogen throughout butterfly wing sample formation
Joseph J Hanly, Ling S Loh, Anyi Mazo-Vargas, Teomie S Rivera-Miranda, Luca Livraghi, Amruta Tendolkar, Christopher R Day, Neringa Liutikaite, Emily A Earls, Olaf BWH Corning, Natalie D'Souza, José J Hermina-Perez, Caroline Mehta, Julia Ainsworth, Matteo Rossi, W. Owen McMillan, Michael W Perry, Arnaud Martin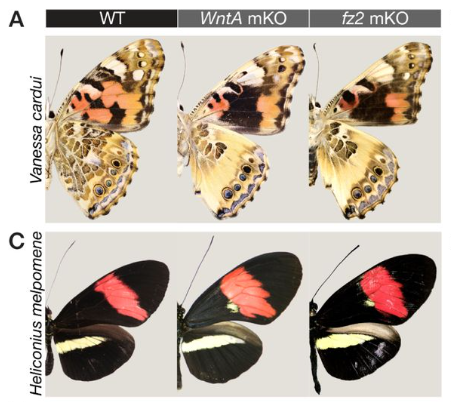 Polycomb safeguards imaginal disc specification by means of management of the Vestigial-Scalloped advanced
Haley E. Brown, Brandon P. Weasner, Bonnie M. Weasner, Justin P. Kumar
An energetic touring wave of Eda/NF-kB signaling controls the timing and hexagonal sample of pores and skin appendages in zebrafish
Maya N. Evanitsky, Stefano Di Talia
Wnt and BMP signalling direct anterior/posterior differentiation in aggregates of mouse embryonic stem cells
Atoosa Amel, Simoné Rossouw, Mubeen Goolam
Juvenile hormones direct primordial germ cell migration to the embryonic gonad
Barton Lacy J, Sanny Justina, Dawson Emily P, Nouzova Marcela, Noriega Fernando Gabriel, Stadtfeld Matthias, Lehmann Ruth
SPATIO-TEMPORAL DYNAMICS OF EARLY SOMITE SEGMENTATION IN THE CHICKEN EMBRYO
Ana Cristina Maia-Fernandes, Ana Martins-Jesus, Tomás Pais-de-Azevedo, Ramiro Magno, Isabel Duarte, Raquel P. Andrade
Identification of overlapping and distinct mural cell populations throughout early embryonic improvement
Sarah Colijn, Miku Nambara, Amber N. Stratman
Reuse of an insect wing venation gene-regulatory subnetwork in patterning the eyespot rings of butterflies
Tirtha Das Banerjee, Antónia Monteiro
On progress and type of the mammary gland: Epithelial-mesenchymal interactions in embryonic mammary gland improvement
Qiang Lan, Ewelina Trela, Riitta Lindström, Jyoti Satta, Mona M. Christensen, Martin Holzenberger, Jukka Jernvall, Marja L. Mikkola
Mixed inactivation of RB and Hippo pathways converts differentiating photoreceptors into eye progenitor cells by means of derepression of homothorax
Alexandra E. Rader, Battuya Bayarmagnai, Maxim V. Frolov
The Function of MAP3K1 within the Improvement of the Feminine Reproductive Tract
Eiki Kimura, Maureen Mongan, Bo Xiao, Jingjing Wang, Vinicius S Carreira, Brad Bolon, Xiang Zhang, Katherine A. Burns, Jacek Biesiada, Mario Medvedovic, Alvaro Puga, Ying Xia
Scabrous is distributed by way of signaling filopodia to modulate Notch response throughout bristle patterning in Drosophila
Adam Presser, Olivia Freund, Theodora Hassapelis, Ginger L Hunter
Netrin-1 directs vascular patterning and maturity within the creating kidney
Samuel Emery Honeycutt, Pierre-Emmanuel Yoann N'Guetta, Deanna Marie Hardesty, Yubin Xiong, Shamus Luke Cooper, Lori Lynn O'Brien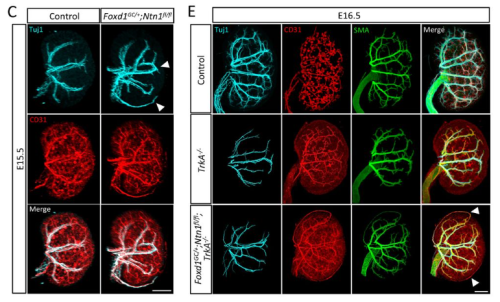 | Morphogenesis & mechanics
Medioapical contractile pulses coordinated between cells regulate Drosophila eye morphogenesis
Christian Rosa Birriel, Jacob Malin, Victor Hatini
Pten, Pi3K and PtdIns(3,4,5)P3 dynamics modulate pulsatile actin branching in Drosophila retina morphogenesis
Jacob Malin, Christian Rosa Birriel, Victor Hatini
Spatial and temporal regulation of Wnt signaling pathway members within the improvement of butterfly eyespots
Tirtha Das Banerjee, Suriya Narayanan Murugesan, Antόnia Monteiro
DRMY1 promotes sturdy morphogenesis by sustaining translation of a hormone signaling protein
Shuyao Kong, Mingyuan Zhu, M. Regina Scarpin, David Pan, Longfei Jia, Ryan E. Martinez, Simon Alamos, Batthula Vijaya Lakshmi Vadde, Hernan G. Garcia, Shu-Bing Qian, Jacob O. Brunkard, Adrienne H. Okay. Roeder
Astroglial Hmgb1 regulates postnatal astrocyte morphogenesis and cerebrovascular maturation.
Moises Freitas-Andrade, Cesar H Comin, Peter C Van Dyken, Julie Ouellette, Joanna Raman-Nair, Nicole Blakeley, Quing Yan Liu, Sonia Leclerc, Youlian Pan, Ziying Liu, Micael Service, Karan Thakur, Alexandre Savard, Gareth M Rurak, Marie-Eve Tremblay, Natalina Salmaso, Luciano Da F Costa, Gianfilippo Coppola, Baptiste Lacoste
Transcriptomic profiling of tissue environments essential for post-embryonic patterning and morphogenesis of zebrafish pores and skin
Andrew J Aman, Lauren M Saunders, August A Carr, Sanjay R Srivatsan, Colten Eberhard, Blake Carrington, Daybreak E Watkins-Chow, William Pavan, Cole Trapnell, David M. Parichy
Pathways that have an effect on anterior morphogenesis in C. elegans embryos
Balasubramaniam Boopathi, Irini Topalidou, Melissa Kelley, Sarina M. Meadows, Owen Funk, Michael Ailion, David S. Fay
Early embryogenesis in CHDFIDD mouse mannequin reveals facial clefts and altered craniofacial neurogenesis
M Hampl, N Jandova, D Luskova, M Novakova, J Prochazka, J Kohoutek, M Buchtova
Xenopus Ssbp2 is required for embryonic pronephros morphogenesis and terminal differentiation
Ailen S. Cervino, Mariano G. Collodel, Ivan A. Lopez, Daniel Hochbaum, Neil A. Hukriede, M. Cecilia Cirio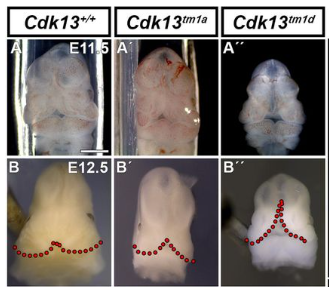 | Genes & genomes
Single-cell evaluation of shared signatures and transcriptional range throughout zebrafish improvement
Abhinav Sur, Yiqun Wang, Paulina Capar, Gennady Margolin, Jeffrey A. Farrell
Constructing useful circuits in multispecies brains
Benjamin T. Throesch, Muhammad Khadeesh bin Imtiaz, Rodrigo Muñoz-Castañeda, Masahiro Sakurai, Andrea L. Hartzell, Kiely N. James, Alberto R. Rodriguez, Greg Martin, Giordano Lippi, Sergey Kupriyanov, Zhuhao Wu, Pavel Osten, Juan Carlos Izpisua Belmonte, Jun Wu, Kristin Okay. Baldwin
Identification of a number of transcription issue genes doubtlessly concerned within the improvement of electrosensory versus mechanosensory lateral line organs
Martin Minařík, Melinda S. Modrell, J. Andrew Gillis, Alexander S. Campbell, Isobel Fuller, Rachel Lyne, Gos Micklem, David Gela, Martin Pšenička, Clare V. H. Baker
FOXL2 interplay with totally different binding companions regulates the dynamics of granulosa cell differentiation throughout ovarian improvement
Roberta Migale, Michelle Neumann, Richard Mitter, Mahmoud-Reza Rafiee, Sophie Wooden, Jessica Olsen, Robin Lovell-Badge
Chromatin Reprogramming of In Vitro Fertilized and Somatic Cell Nuclear Switch Bovine Embryos Throughout Embryonic Genome Activation
Edward J. Develop, Ying Liu, Zhiqiang Fan, Iuri Viotti Perisse, Tayler Patrick, Misha Regouski, Sean Shadle, Irina Polejaeva, Kenneth L. White, Bradley R. Cairns
A single-cell transcriptional timelapse of mouse embryonic improvement, from gastrula to pup
Chengxiang Qiu, Beth Okay. Martin, Ian C. Welsh, Riza M. Daza, Truc-Mai Le, Xingfan Huang, Eva Okay. Nichols, Megan L. Taylor, Olivia Fulton, Diana R. O'Day, Anne Roshella Gomes, Saskia Ilcisin, Sanjay Srivatsan, Xinxian Deng, Christine M. Disteche, William Stafford Noble, Nobuhiko Hamazaki, Cecilia B. Moens, David Kimelman, Junyue Cao, Alexander F. Schier, Malte Spielmann, Stephen A. Murray, Cole Trapnell, Jay Shendure
Monitoring Early Mammalian Organogenesis – Prediction and Validation of Differentiation Trajectories at Entire Organism Scale
Ivan Imaz-Rosshandler, Christina Rode, Carolina Guibentif, Mai-Linh N. Ton, Parashar Dhapola, Daniel Keitley, Ricard Argelaguet, Fernando J. Calero-Nieto, Jennifer Nichols, John C. Marioni, Marella F.T.R. de Bruijn, Berthold Göttgens
Differentiation trajectories of the Hydra nervous system reveal transcriptional regulators of neuronal destiny
Abby S Primack, Jack F Cazet, Hannah Morris Little, Susanne Mühlbauer, Ben D Cox, Charles N David, Jeffrey A Farrell, Celina E Juliano
Single-cell long-read mRNA isoform regulation is pervasive throughout mammalian mind areas, cell sorts, and improvement
Anoushka Joglekar, Wen Hu, Bei Zhang, Oleksandr Narykov, Mark Diekhans, Jennifer Balacco, Lishomwa C Ndhlovu, Teresa A Milner, Olivier Fedrigo, Erich D Jarvis, Gloria Sheynkman, Dmitry Korkin, M. Elizabeth Ross, Hagen U. Tilgner
Transposable Components are differentially activated in cell lineages through the creating murine submandibular gland
Braulio Valdebenito-Maturana
A number of repeat areas inside mouse DUX recruit chromatin regulators to facilitate an embryonic gene expression program
Christina M. Smith, Edward J. Develop, Sean C. Shadle, Bradley R. Cairns
The Drosophila drop-dead gene is required for eggshell integrity
Tayler D. Sheahan, Amanpreet Grewal, Laura E. Korthauer, Edward M. Blumenthal
Characterization of things that underlie transcriptional silencing in C. elegans oocytes
Mezmur D. Belew, Emilie Chien, W. Matthew Michael
daf-42 is an evolutionarily younger gene important for dauer improvement in Caenorhabditis elegans
Daisy S. Lim, Jun Kim, Wonjoo Kim, Nari Kim, Sang-Hee Lee, Daehan Lee, Junho Lee
Spatiotemporal transcriptome atlas of human embryos after gastrulation
Jiexue Pan, Yuejiao Li, Zhongliang Lin, Qing Lan, Huixi Chen, Man Zhai, Shengwei Sui, Gaochen Zhang, Yi Cheng, Yunhui Tang, Qingchen Wang, Ying Zhang, Fuhe Ma, Yue Xu, Yiting Mao, Qinfang Chen, Yichun Guan, Nan Meng, Haiqian Lu, Xiangjuan Li, Tingting Zheng, Xiaoying Yao, Qiuyu Qin, Bin Jiang, Yuxing Ren, Meiqi Luo, Ji Nancuo, Xin Jin, Jianzhong Sheng, Congjian Xu, Xinmei Liu, Yanting Wu, Chenming Xu, Lijian Zhao, Hongbo Yang, Ya Gao, Guolian Ding, Xun Xu, Hefeng Huang
Spatial transcriptome profiling uncovers metabolic regulation of left-right patterning
Hisato Yagi, Cheng Cui, Manush Saydmohammed, George Gabriel, Candice Baker, William Devine, Yijen Wu, Jiuann-huey Lin, Marcus Malek, Abha Bais, Stephen Murray, Bruce Aronow, Michael Tsang, Dennis Kostka, Cecilia W. Lo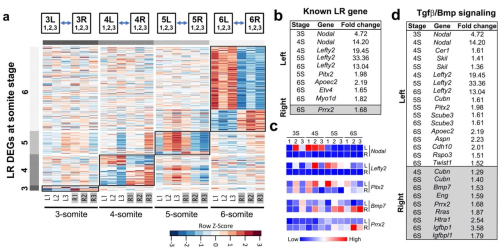 Vertical transmission of maternal mitochondrial DNA by means of extracellular vesicles modulates embryo bioenergetics
David Bolumar, Javier Moncayo-Arlandi, Javier Gonzalez-Fernandez, Ana Ochando, Inmaculada Moreno, Carlos Marin, Antonio Diez, Paula Fabra, Miguel Ángel Checa, Juan José Espinos, David Okay. Gardner, Carlos Simon, Felipe Vilella
Wnt exercise reveals context-specific genetic results on gene regulation in neural progenitors
Nana Matoba, Brandon D Le, Jordan M Valone, Justin M Wolter, Jessica Mory, Dan Liang, Nil Aygün, Okay Alaine Broadaway, Marielle L Bond, Karen L Mohlke, Mark J Zylka, Michael I Love, Jason L Stein
A transient dermal area of interest and twin epidermal packages underlie sweat gland improvement
Heather L. Dingwall, Reiko R. Tomizawa, Adam Aharoni, Peng Hu, Qi Qiu, Blerina Kokalari, Serenity M. Martinez, Joan C. Donahue, Daniel Aldea, Meryl Mendoza, Ian A. Glass, Delivery Defects Analysis Laboratory (BDRL), Hao Wu, Yana G. Kamberov
| Stem cells, regeneration & illness modelling
Human pluripotent stem cells-derived internal ear organoids recapitulate otic improvement in vitro
Daniela Doda, Sara Alonso Jimenez, Hubert Rehrauer, Jose F. Carreño, Victoria Valsamides, Stefano Di Santo, Hans Ruedi Widmer, Albert Edge, Heiko Locher, Wouter van der Valk, Jingyuan Zhang, Karl R. Koehler, Marta Roccio
Delivery, cell destiny and conduct of progenitors on the origin of the cardiac mitral valve
Batoul Farhat, Ignacio Bordeu, Bernd Jagla, Hugo Blanc, Karine Loulier, Benjamin D. Simons, Emmanuel Beaurepaire, Jean Livet, Michel Pucéat
Single Cell Transcriptomics-Knowledgeable Induced Pluripotent Stem Cells Differentiation to Tenogenic Lineage
Angela Papalamprou, Victoria Yu, Wensen Jiang, Julia Sheyn, Tina Stefanovic, Angel Chen, Chloe Castaneda, Melissa Chavez, Dmitriy Sheyn
Environment friendly self-organization of blastoids solely from mouse ESCs is facilitated by transient reactivation of 2C gene community
Debabrata Jana, Priya Singh, Purnima Sailasree, Nithyapriya Kumar, Vijay V Vishnu, Hanuman T Kale, Jyothi Lakshmi, Asha Kumari, Divya Tej Sowpati, P Chandra Shekar
Caenorhabditis elegans fashions for striated muscle problems brought on by missense variants of human LMNA
Ellen F. Gregory, Shilpi Kalra, Trisha Brock, Gisèle Bonne, G.W. Gant Luxton, Christopher Hopkins, Daniel A. Starr
Overactivated epithelial NF-κB disrupts lung improvement in human and nitrofen CDH
Florentine Dylong, Jan Riedel, Gaurang M. Amonkar, Nicole Peukert, Paula Lieckfeldt, Katinka Sturm, Benedikt Höxter, Wai Hei Tse, Yuichiro Miyake, Steffi Mayer, Richard Keijzer, Martin Lacher, Xingbin Ai, Jan-Hendrik Gosemann, Richard Wagner
Directed differentiation of human pluripotent stem cells into articular cartilage reveals results brought on by absence of WISP3, the gene chargeable for Progressive Pseudorheumatoid Arthropathy of Childhood
Chaochang Li, Mireia Alemany Ribes, Rosanne Raftery, Uzochi Nwoko, Matthew L. Warman, April M. Craft
PRDM16 features as a co-repressor within the BMP pathway to suppress neural stem cell proliferation
Li He, Jiayu Wen, Qi Dai
SOX9-positive pituitary stem cells differ in line with their place within the gland and upkeep of their progeny relies on context
Karine Rizzoti, Probir Chakravarty, Daniel Sheridan, Robin Lovell-Badge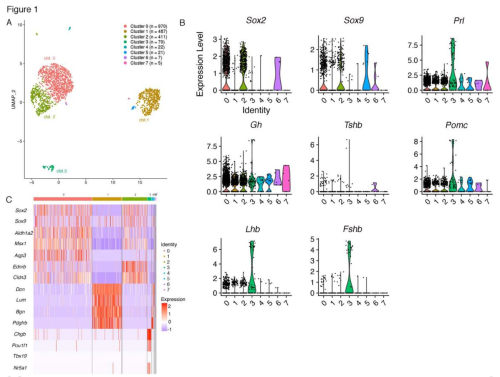 Characterization of regeneration initiating cells throughout Xenopus laevis tail regeneration
Sindelka Radek, Abaffy Pavel, Zucha Daniel, Naraine Ravindra, Kraus Daniel, Netusil Jiri, Smetana Karel Jr., Lukas Lacina, Endaya Berwini Beduya, Neuzil Jiri, Psenicka Martin, Kubista Mikael
Sox11 is enriched in myogenic progenitors however dispensable for improvement and regeneration of skeletal muscle
Stephanie N. Oprescu, Nick Baumann, Xiyue Chen, Qiang Solar, Yu Zhao, Feng Yue, Huating Wang, Shihuan Kuang
Dedifferentiating germ cells regain stem-cell particular polarity checkpoint previous to area of interest reentry
Muhammed Burak Bener, Autumn Twillie, Mayu Inaba
p53 promotes revival stem cells within the regenerating gut after extreme radiation harmv
Clara Morral, Arshad Ayyaz, Hsuan-Cheng Kuo, Mardi Fink, Ioannis Verginadis, Andrea R. Daniel, Danielle N. Burner, Lucy M. Driver, Sloane Satow, Stephanie Hasapis, Reem Ghinnagow, Lixia Luo, Yan Ma, Laura D. Attardi, Costas Koumenis, Andy J Minn, Jeffrey L. Wrana, Chang-Lung Lee, David G. Kirsch
Derivation of trophoblast stem cells unveils unrestrained potential of mouse ESCs and epiblast
Debabrata Jana, Purnima Sailasree, Priya Singh, Mansi Srivastava, Vijay V Vishnu, Hanuman T Kale, Jyothi Lakshmi, Gunda Srinivas, Divya Tej Sowpati, P Chandra Shekar
Radical fringe facilitates NOTCH1 and JAG1 cis interactions to maintain Hematopoietic stem cell destiny
Roshana Thambyrajah, Maria Maqueda, Wen Hao Neo, Kathleen Imbach, Yolanda Guillen, Daniela Grases, Zaki Fadlullah, Stefano Gambera, Francesca Matteini, Xiaonan Wang, Fernando J. Calero-Nieto, Manel Esteller, Maria Carolina Florian, Eduard Porta, Rui Benedito, Berthold Göttgens, Georges Lacaud, Lluis Espinosa, Anna Bigas
Single-cell evaluation reveals distinct fibroblast plasticity throughout tenocyte regeneration in zebrafish
Arsheen M. Rajan, Nicole L. Rosin, Elodie Labit, Jeff Biernaskie, Shan Liao, Peng Huang
Cell Kind-Particular Regulation by a Heptad of Transcription Components in Human Hematopoietic Stem and Progenitor Cells
Shruthi Subramanian, Julie A.I. Thoms, Yizhou Huang, Paola Cornejo, Forrest C. Koch, Sebastien Jacquelin, Sylvie Shen, Emma Tune, Swapna Joshi, Chris Brownlee, Petter S. Woll, Diego Chacon Fajardo, Dominik Beck, David J. Curtis, Kenneth Yehson, Vicki Antonenas, Tracey O' Brien, Annette Trickett, Jason A. Powell, Ian D. Lewis, Stuart M. Pitson, Maher Okay. Gandhi, Steven W. Lane, Fatemeh Vafaee, Emily S. Wong, Berthold Göttgens, Hamid Alinejad Rokny, Jason W.H Wong, John E. Pimanda
A quantitative characterization of early neuron era within the creating zebrafish telencephalon
Glòria Casas Gimeno, Ekaterina Dvorianinova, Carla-Sophie Lembke, Emma SC Dijkstra, Hussam Abbas, Yuanyuan Liu, Judith TML Paridaen
Matrigel inhibits elongation and drives endoderm differentiation in aggregates of mouse embryonic stem cells
Atoosa Amel, Mubeen Goolam
| Plant improvement
Auxin coreceptor IAA17/AXR3 controls cell elongation in Arabidopsis thaliana root by modulation of auxin and gibberellin notion
Monika Kubalová, Karel Müller, Petre Ivanov Dobrev, Annalisa Rizza, Alexander M. Jones, Matyáš Fendrych
Arabidopsis NF-YCs work together with CRY2 and PIF4/5 to repress blue light-mediated hypocotyl progress
Wei Wang, Lin Gao, Tianliang Zhao, Jiamei Chen, Ting Chen, Wenxiong Lin
Physcomitrium patens SMXL homologs are PpMAX2-dependent damaging regulators of progress
Ambre Guillory, Mauricio Lopez-Obando, Khalissa Bouchenine, Philippe Le Bris, Alain Lécureuil, Jean-Paul Pillot, Vincent Steinmetz, François-Didier Boyer, Catherine Rameau, Alexandre de Saint Germain, Sandrine Bonhomme
Dynamics of organelle DNA segregation in Arabidopsis improvement and copy revealed with tissue-specific heteroplasmy profiling and stochastic modelling
Amanda Okay Broz, Daniel B Sloan, Iain G Johnston
A transcriptome evaluation of OsNAC02 Ko-mutant throughout vegetative endosperm improvement
Mei Yan, Guiai Jiao, Gaoneng Shao, Ying Chen, Maodi Zhu, Lingwei Yang, Lihong Xie, Peisong Hu, Shaoqing Tang
Embryo-specific epigenetic mechanisms reconstitute the CHH methylation panorama throughout Arabidopsis embryogenesis
Ping-Hung Hsieh, Jennifer M. Frost, Yeonhee Choi, Tzung-Fu Hsieh, Daniel Zilberman, Robert L Fischer
Arabidopsis lateral shoots show two distinct phases of progress angle management
Martina De Angelis, Stefan Kepinski

Autophagy in maternal tissues contributes to Arabidopsis thaliana seed improvement
Ori Erlichman, Shahar Weiss, Maria Abu-Arkia, Moria Ankary Khaner, Yoram Soroka, Weronika Jasinska, Leah Rosental, Yariv Brotman, Tamar Avin-Wittenberg
Useful evaluation of Salix purpurea genes help roles for ARR17 and GATA15 as grasp regulators of intercourse dedication
Brennan Hyden, Dana L. Carper, Paul E. Abraham, Guoliang Yuan, Tao Yao, Leo Baumgart, Yu Zhang, Cindy Chen, Ronan O'Malley, Jin-Gui Chen, Xiaohan Yang, Robert L. Hettich, Gerald A. Tuskan, Lawrence B. Good
| Evo-devo
Evolution of chemosensory tissues and cells throughout ecologically various Drosophilids
Gwénaëlle Bontonou, Bastien Saint-Leandre, Tane Kafle, Tess Baticle, Afrah Hassan, Juan Antonio Sánchez-Alcañiz, Roman J. Arguello
Measurement and locomotor ecology have differing results on the exterior and inner morphologies of squirrel (Rodentia: Sciuridae) limb bones
Johannah Rickman, Abigail E Burtner, Tate J Linden, Sharlene E Santana, Chris J Legislation
Cell Biology
Endothelial Nitric Oxide Synthase Regulates Lymphatic Valve Specification By Controlling β – catenin Signaling Throughout Embryogenesis
Drishya Iyer, Diandra Mastrogiacomo, Kunyu Li, Richa Banerjee, Ying Yang, Joshua P. Scallan
Sexually dimorphic dynamics of the microtubule community in medaka (Oryzias latipes) germ cells
Mariko Kikuchi, Miyo Yoshimoto, Tokiro Ishikawa, Yuto Kanda, Kazutoshi Mori, Toshiya Nishimura, Minoru Tanaka
Spatial transcriptome of developmental mouse mind reveals temporal dynamics of gene expressions and heterogeneity of the claustrum
Yuichiro Hara, Takuma Kumamoto, Naoko Yoshizawa-Sugata, Kumiko Hirai, Tune Xianghe, Hideya Kawaji, Chiaki Ohtaka-Maruyama
RNAi-mediated regulation of alg-3 and alg-4 coordinates the spermatogenesis developmental program in C. elegans
Cara McCormick, Alicia Okay. Rogers
Foxp- and Skor-family proteins management differentiation of Purkinje cells from Ptf1a and Neurogenin1-expressing progenitors in zebrafish
Tsubasa Itoh, Mari Uehara, Shinnosuke Yura, Jui Chun Wang, Akiko Nakanishi, Takashi Shimizu, Masahiko Hibi
Suppression of ferroptosis by vitamin A or antioxidants is important for neuronal improvement
Juliane Tschuck, Vidya Padmanabhan Nair, Ana Galhoz, Gabriele Ciceri, Ina Rothenaigner, Jason Tchieu, Hin-Man Tai, Brent R. Stockwell, Lorenz Studer, Michael P. Menden, Michelle Vincendeau, Kamyar Hadian
Tristetraprolin promotes survival of mammary progenitor cells by restraining TNFα ranges
Stedile Micaela, Lara Montero Angela, García Solá Martín Emilio, Goddio María Victoria, Beckerman Inés, Bogni Emilia, Ayre Marina, Naguila Zaira, Coso Omar, Edith C. Kordon
Kinesin-1 promotes centrosome clustering and nuclear migration within the Drosophila oocyte
Maëlys Loh, Fred Bernard, Antoine Guichet
Spatial consistency of cell progress course throughout organ morphogenesis requires CELLULOSE-SYNTHASE INTERACTIVE1
Corentin Mollier, Joanna Skrzydeł, Dorota Borowska-Wykręt, Mateusz Majda, Vincent Bayle, Virginie Battu, Jean-Chrisologue Totozafy, Mateusz Dulski, Antoine Fruleux, Roman Wrzalik, Grégory Mouille, Richard S. Smith, Françoise Monéger, Dorota Kwiatkowska, Arezki Boudaoud
RhoA GEF Mcf2lb regulates rosette integrity throughout collective cell migration
Hannah M. Olson, Amanda Maxfield, Nicholas L. Calistri, Laura M. Heiser, Alex V. Nechiporuk
Bitesize bundles F-actin and influences actin transforming in syncytial Drosophila embryo improvement
Anna R. Yeh, Gregory J. Hoeprich, Bruce L. Goode, Adam C. Martin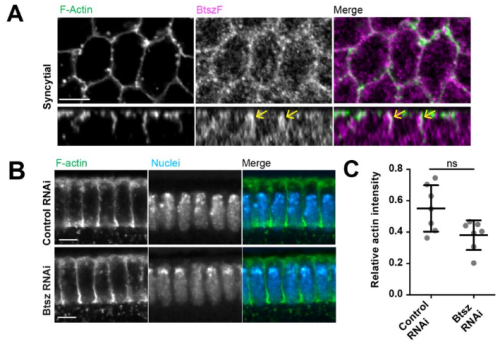 Proteomic Investigation of Neural Stem Cell to Oligodendrocyte Precursor Cell Differentiation Reveals Phosphorylation-Dependent Dclk1 Processing
Robert Hardt, Alireza Dehghani, Carmen Schoor, Markus Gödderz, Nur Cengiz Winter, Shiva Ahmadi, Ramesh Sharma, Karin Schork, Martin Eisenacher, Volkmar Gieselmann, Dominic Winter
Modelling
The time integral of BMP signaling determines destiny in a stem cell mannequin for early human improvement
Seth Teague, Gillian Primavera, Bohan Chen, Emily Freeburne, Hina Khan, Kyoung Jo, Craig Johnson, Idse Heemskerk
insideOutside: an accessible algorithm for classifying inside and exterior factors, with purposes in embryology
Stanley E. Strawbridge, Agata Kurowski, Elena Corujo-Simon, Alastair N. Fletcher, Jennifer Nichols, Alexander G. Fletcher
Single-cell phenomics reveals behavioural and mechanical heterogeneities underpinning collective migration throughout mouse anterior patterning
Matthew Stower, Felix Zhou, Holly Hathrell, Jason Yeung, Shifaan Thowfeequ, Jonathan Godwin, Falk Schneider, Christoffer Lagerholm, Marco Fritzsche, Jeyan Thiyagalingam, Xin Lu, Jens Rittscher, Shankar Srinivas
Deciphering the Differential Influence of Thrombopoietin/MPL Signaling on Hematopoietic Stem Cell Operate in Bone Marrow and Spleen
Sandy Lee, Huichun Zhan
Time, Area and Single-Cell Resolved Molecular Trajectory of Cell Populations and the Laterality of the Physique Plan at Gastrulation
Ran Wang, Xianfa Yang, Jiehui Chen, Lin Zhang, Jonathan A. Griffiths, Guizhong Cui, Yingying Chen, Yun Qian, Guangdun Peng, Jinsong Li, Liantang Wang, John C. Marioni, Patrick P.L. Tam, Naihe Jing
Turing sample prediction in three-dimensional domains: the function of preliminary situations and progress
Soha Ben Tahar, Jose J Muñoz, Sandra J Shefelbine, Ester Comellas
Hole junctions in Turing-type periodic feather sample formation
Chun-Chih Tseng, Thomas E. Woolley, Ting-Xin Jiang, Ping Wu, Philip Okay. Maini, Randall B. Widelitz, Cheng-Ming Chuong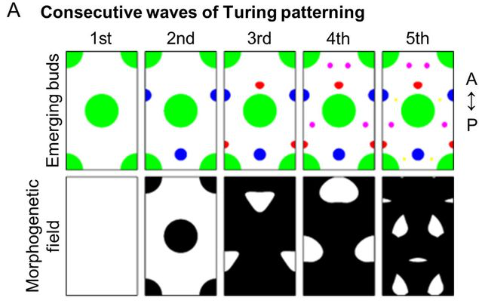 Instruments & Assets
Optimized husbandry and focused gene-editing for the cnidarian Nematostella vectensis
João E. Carvalho, Maxence Burtin, Olivier Detournay, Aldine R. Amiel, Eric Röttinger
Common methodology for producing knockout mice in a number of genetic backgrounds utilizing zygote electroporation
Tomohiro Tamari, Yoshihisa Ikeda, Kento Morimoto, Keiko Kobayashi, Saori Mizuno-Iijima, Shinya Ayabe, Akihiro Kuno, Seiya Mizuno, Atsushi Yoshiki
Soumyaroop Bhattacharya, Caroline Cherry, Gail Deutsch, Delivery Defects Analysis Laboratory (BDRL), Ian A. Glass, Thomas J. Mariani, Denise Al Alam, Soula Danopoulos
A Suite of Mouse Reagents for Learning Amelogenesis
Tomas Wald, Adya Verma, Victoria Cooley, Pauline Marangoni, Oscar Cazares, Amnon Sharir, Evelyn J. Sandoval, David Sung, Hadis Najibi, Tingsheng Yu Drennon, Jeffrey O. Bush, Derk Joester, Ophir D. Klein
An Picture-Guided Microfluidic System for Single-Cell Lineage Monitoring
Aslan Kamil Mahmut, Fourneaux Camille, Yilmaz Alperen, Stavros Stavrakis, Parmentier Romuald, Paldi Andras, Gonin-Giraud Sandrine, J Andrew deMello, Gandrillon Olivier
A Zika virus protein expression display in Drosophila to analyze focused host pathways throughout improvement
Nichole Hyperlink, J Michael Harnish, Brooke Hull, Shelley Gibson, Miranda Dietze, Uchechukwu E Mgbike, Silvia Medina-Balcazar, Priya S Shah, Shinya Yamamoto
An AI-based segmentation and evaluation pipeline for high-field MR monitoring of cerebral organoids
Luca Deininger, Sabine Jung-Klawitter, Petra Richter, Manuel Fischer, Kianush Karimian-Jazi, Michael O. Breckwoldt, Martin Bendszus, Sabine Heiland, Jens Kleesiek, Ralf Mikut, Daniel Hübschmann, Daniel Schwarz
Genetic instruments for the examine of the mangrove killifish, Kryptolebias marmoratus, an rising vertebrate mannequin for phenotypic plasticity
Cheng-Yu Li, Helena Boldt, Emily Mum or dad, Jax Ficklin, Althea James, Troy J. Anlage, Lena M. Boyer, Brianna R. Pierce, Kellee Siegfried, Matthew P. Harris, Eric S. Haag
Developmental staging and future analysis instructions of the mannequin marine tubeworm Hydroides elegans
Katherine T. Nesbit, Nicholas J. Shikuma
Analysis apply & schooling
Constructing the Subsequent Technology Workforce: Why We Want Science Coverage Coaching on the Undergraduate Degree
Gwendolyn Bogard, Erin Saybolt, Moraima Castro-Faix, Adriana Bankston
Purchases dominate the carbon footprint of analysis laboratories
Marianne De Paepe, Laurent Jeanneau, Jerôme Mariette, Olivier Aumont, André Estevez-Torres
The panorama of biomedical analysis
Rita González-Márquez, Luca Schmidt, Benjamin M. Schmidt, Philipp Berens, Dmitry Kobak
Twitter and Mastodon presence of highly-cited scientists
Maximilian Siebert, Leonardo Maria Siena, John P.A. Ioannidis
Self-referencing charges in organic disciplines
Sean M. Cascarina
The put up April in preprints appeared first on the Node.